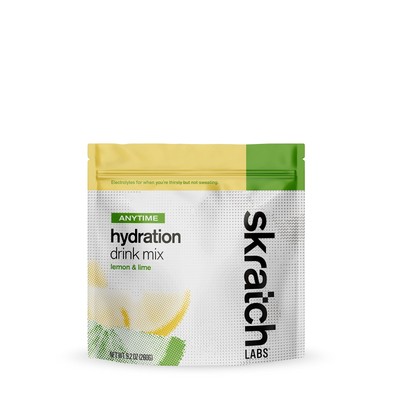 item description
Products made with real ingredients and no extra fillers.
We started by making sports hydration mixes in a paint shaker at the local
hardware store in 2011 (yes really). We wanted to help pro cyclists feel
better and ride faster. When they pushed themselves byond the norm, they
didn't want to eat or drink anything that tasted like science. They wanted
real food based on science. Something that just worked that wasn't weird or
fake. So we created that for them. When our friends and family started bugging
for the same, our founder, Dr. Allen Lim, gave up his past life on the Pro
Cycling tour and started over – from scratch. And here we are now. It's been a
wild ride. Thanks for being part of the journey.    FAQs What makes Skratch
Labs different from other companies that make similar products? We create
products that solve problems which means every ingredient has a purpose. That
purpose is to help people perform better. Any non essential ingredients have
been avoided. That means using real ingredients such as fruit, chocolate and
nuts and a balance of nutrients that is best for the body, something not many
other brands in our category are doing. Why are your hydration mixes in powder
form? A powder form factor is the best way to keep the product free from
binding agents or anything artificial. We keep our products as clean as
possible so that the ingredients can do their jobs well. What is the shelf
life of your products? The shelf life of Anytime Hydration Drink Mix and Sport
Hydration Mix is 24 months. Once mixed it should be consumed within 24 hours.
Sport Energy Chews: 18 months. Anytime Energy Bars and Sport Recovery Drink
Mix: 12 months. Are the drink mixes safe for kids? Yes! Our hydration products
are great for kids. Our Anytime Hydration Drink Mix has 50% less sugar than
traditional sports drinks and national juice brands and our Sport Hydration
Mix has 40% more key electrolytes than those same sports drinks. Both are
flavored only with real fruit. They have none of the excess ingredients like
preservatives, emulsifiers, coloring agents, or flavoring agents that can hurt
kids' stomachs.
Product Features
Formerly known as Daily Electrolyte mix – the Anytime Hydration Drink Mix is the same great product with a fresh new look
Helps you avoid starting workouts dehydrated which can cause headaches and dizziness
20 servings per bag. Nutrition (per serving): 50 Calories, 100mg Sodium, 11g sugar
Non-GMO, gluten free, dairy free, vegan, kosher
50% less sugar than the leading traditional sports drinks
Additional information
Flavor: Lemon and Lime
Brand: Skratch Labs